Does she have a message from beyond the grave?
This is my haunted doll.
I bought her off eBay two years ago and she's been sitting on my desk at work ever since. Her name is Mary, according to the seller. One time I took her to a psychic to get a professional's opinion on whether or not she was haunted. (The psychic said yes, very haunted.)
But I decided to take matters into my own hands and see if I could communicate with Mary directly. I got several ghost communication tools–a ouija board, dowsing rods, and a pendulum. I got them all online. I didn't even have to go to an enchanted bookstore or anything.
Joanna Borns / BuzzFeed
Here is my attempt to communicate with Mary:
BuzzFeed Blue / Via youtube.com
I had never used a Ouija board before. I was always too scared of opening a portal to the spirit world and making my environment super haunted. But I decided to see if I could use it to talk to Mary.
I ended up contacting a ghost named Thomas who was born in 1867 (according to him). Apparently ghosts can lie over the Ouija board. We had to end the session when we contacted a spirit who said it was born in the year "0" and then made several figure eights. Apparently that's quite evil.
Joanna Borns / BuzzFeed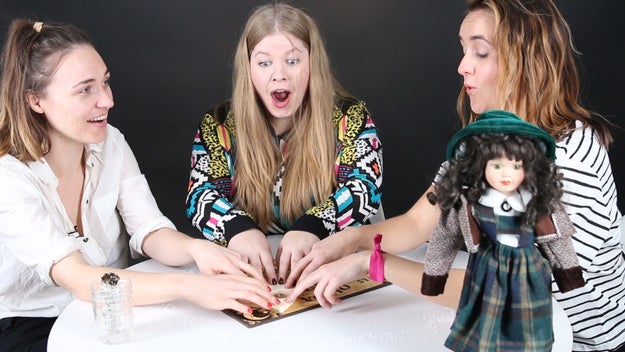 Joanna Borns / BuzzFeed
---