OK, Facebook ads, I give in, I finally tried made-to-measure clothes.
Hi, I'm Kristin! Like many people, I have been inundated with 50 billion Facebook ads for eShakti, an online retailer that makes customizable and made-to-measure clothes.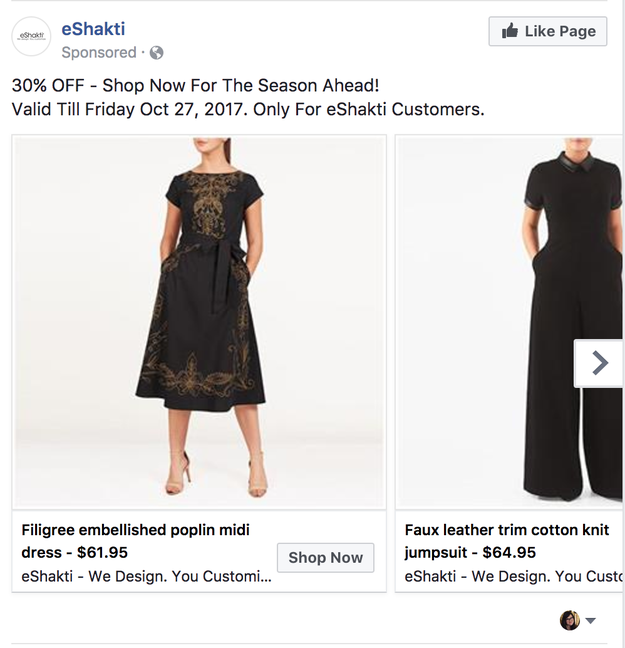 These ads are literally so ubiquitous in my life that when I went to find an image to illustrate this fact, all I had to do was open my Facebook and grab a screenshot. IT FOLLOWS.
eShakti/Facebook
But this relentless slog of ads brings up a fair point: Like many people, I find that clothes often fit me perfectly in one area…and then not really anywhere else.
So I decided to test out a few online customizable clothing retailers and see if ~clothes made for my body~ are the solution to my fit problems or just another pain in the butt.
Now, not all these stores had the same types of clothing available, so I selected two to three items from each store that would require a precise fit such as button down shirts, pencil skirts, pants, etc. That way, I could at least compare the tailoring.
When we're ordering stuff for shoots, I always insist on using my measurements rather than my "sizes," because "sizes" are non-standardized nonsense that always backfire on me. Picking a size for yourself is like roulette, in that sometimes you win and sometimes you get suddenly squeezed VERY tightly. Do you know how many different size charts just Target has for its in house brands?
(No, seriously, go look, I'll be here when you come back with your mind blown.)

Suffice to say that I checked and double checked every measurement multiple times. I followed each stores' specific instructions, even when they differed (lookin' at you, shoulder measurement instructions). I even fitted myself with the exact undergarments I planned on wearing. I did not come to play.
Measurements needed: 18 different measurements for optimal fit (though your size profile allows you to enter as many as 24).
Delivery time: The jumpsuit and the shirt I ordered showed up in two weeks, the dress in three.
Returns: You can get a refund or a store credit, but no exchanges.
Also, for $9.95 per item, you can customize sleeves, necklines, and lengths. I took advantage of this because I have kinda short limbs for my body, and sleeves have a tendency to make me look like an wacky inflatable guy at a car dealership.
Measurements needed: 17 different measurements, but one of the ones they asked for was my weight, which should have been a warning sign in retrospect. Determining a body shape using weight is like describing a house by saying it's 21,165 bricks large.
Also, Sumissura offers to "calculate" your measurements for you for convenience, which lol, no, if we're just guessing, then what are we even doing here?
Delivery time: My sheath dress and pair of pants arrived in about two weeks.
Returns: You can take it to a tailor within seven days of receipt, and Sumissura will reimburse you for your invoice. If a tailor can't fix it, they'll remake it.
Also for one of my measurements, I got an error message saying it was "out of range," which like, I KNOW I'm out of range, that's why I'm coming to y'all for made-to-measure clothes in the first place!
I still remeasured myself three more times and then measured myself again just now while I was writing this even though it literally doesn't matter at this point.
Sumissura
Measurements needed: Just four, including your height, and then two photos of you from the front and from the side wearing something close-fitting. I had a SERIOUS case of the doubties with this. If you only need four to do a skirt, then what are the other companies doing circumnavigating my body?
Delivery time: Both skirts arrived 10 days after I provided my measurements.
Customizations: The mini-skirt is to the length of your choosing, though they give you a guide, and you can pick a custom lining color.
Returns: Choice of a $30 credit for a tailor, getting the skirt remade, or getting a refund.
Rita Phil / Via ritaphil.com
Rita Phil / Via ritaphil.com
• The best fitting items were, from best to worst: Rita Phil by a mile, then eShakti, then Sumissura. Although to be fair, since Rita Phil only makes skirts, I can see it being easier to master one clothing item rather than several.
• I was still pretty shook that the best fitting items came from the place that took the least measurements, and instead asked for photos. Measurements might not actually be enough sometimes to tell the whole story of your body.
• All these places do have some kind of fit guarantee, so if you try them, you aren't going to waste your money, it just might take a little more time and effort to get the fit right.
• If you do decide to go made-to-measure, definitely have a tailor measure you, if you aren't used to measuring yourself, because at least then you won't spend two hours in a dither because you are a perfectionist who can't let anything go ever and then stays up all night obsessing about it.